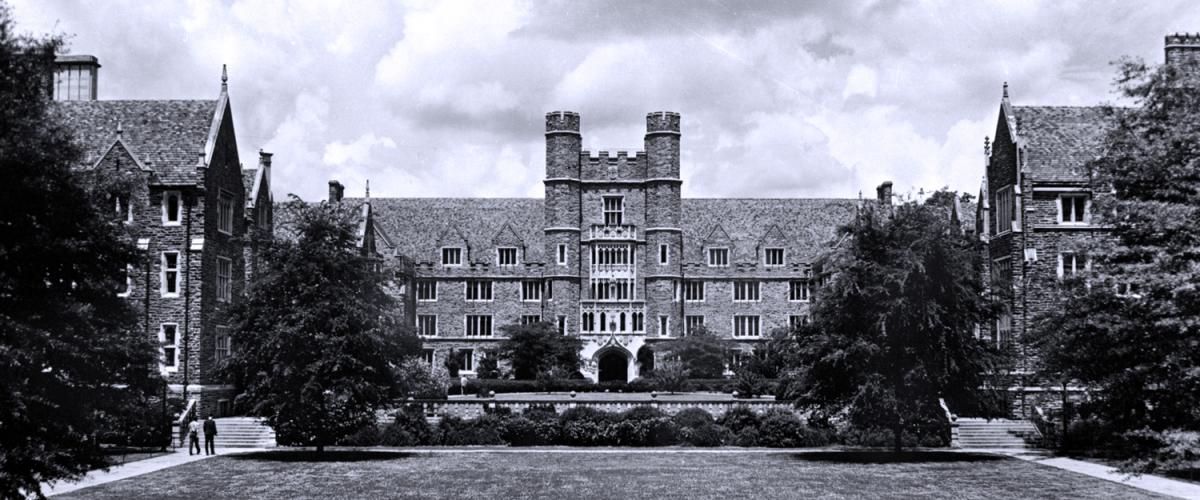 The foundation of the Department of Immunology at Duke University Medical Center was laid over 60 years ago with the recruitment of  D. Bernard Amos, a tumor immunogeneticist, to establish an immunogenetics research program.
Dr. Amos was appointed Professor of Immunology and Professor of Experimental Surgery; and the following year a Division of Immunology, with Amos as Chief, was formed within the Department of Microbiology and Immunology. Amos recruited Richard Metzgar, Eugene Day, Chester Zmijewski, William Boyle, Frances Ward, David Scott, Jeffrey Dawson, and Peter Cresswell. These new faculty complemented the immunology research programs already established within clinical departments at Duke, including those of Rebecca Buckley, Hilliard F. Seigler, Barton Haynes, and Ralph Synderman.
Dr. Amos and his colleagues created a solid immunogenetic basis for organ transplantation and with the support of David C. Sabiston, Chair of the Department of Surgery, built an internationally recognized transplantation research center at Duke. The Division's strong research and training programs in Transplantation and Tumor Immunology attracted large numbers of graduate students, postdoctoral fellows, and visiting faculty, with the consequence that many senior faculty at institutions across the country are alumni of the Duke Immunology program.
 




The Department is Formed
With Dr. Amos' retirement as Chief of the Division in 1990, Peter Cresswell served briefly in that capacity until he relocated to Yale University in 1991. The University established a Department of Immunology in 1992 and recruited Thomas F. Tedder as its inaugural Chair, with the goal of expanding the size of the program and recruiting the best and most promising new faculty available. In 2010, Dr. Michael S. Krangel was appointed Chair. Faculty recruitment by Drs. Tedder and Krangel expanded research coverage of the Department to address a broad range of topics in contemporary immunology. 
In 2022, Dr. Raphael H. Valdivia, former Vice Dean for Basic Sciences at the School of Medicine, was appointed as Chair of the department and charged with the restructuring of the program with a renewed focus on expanding the scope of research to include translational applications to achieve better integration with the clinical enterprise. In 2023, the department was renamed as Duke Integrative Immunobiology to reflect its new research and training scope.

Remembering D. Bernard Amos - a

 Department Legacy
Dr. Amos was born April 16, 1923 in Bromley, Kent, England. He completed his medical training at Guy's Hospital in London and began his research career there as a fellow in 1952. In 1962, he was recruited to Duke University as Professor of Immunology and Professor of Experimental Surgery to establish the Division of Immunology. During this time (1962-1993), Dr. Amos built one of the premier clinical and research transplantation centers in the world. Bernard retired as James B. Duke Professor of Immunology and Experimental Surgery in 1993.
Dr. Amos made seminal and enduring scientific contributions to the areas of immunogenetics, tumor immunity and transplantation immunology. His efforts to move laboratory findings to the bedside are some of the best examples of translational science improving the treatment of human diseases.
Dr. Amos' success as an educator and leader can be attributed to his personal character and effective interpersonal skills. He conveyed tremendous enthusiasm for science and life, readily sharing his ideas and celebrating the new ideas and perspectives of others. His commitment to thoughtful experimentation and promoting collaborative efforts brought people together. Dr. Amos' legacy is a lifetime of achievement, an international community of colleagues, trainees, friends and admirers. Read Dr. Amos' full biography.