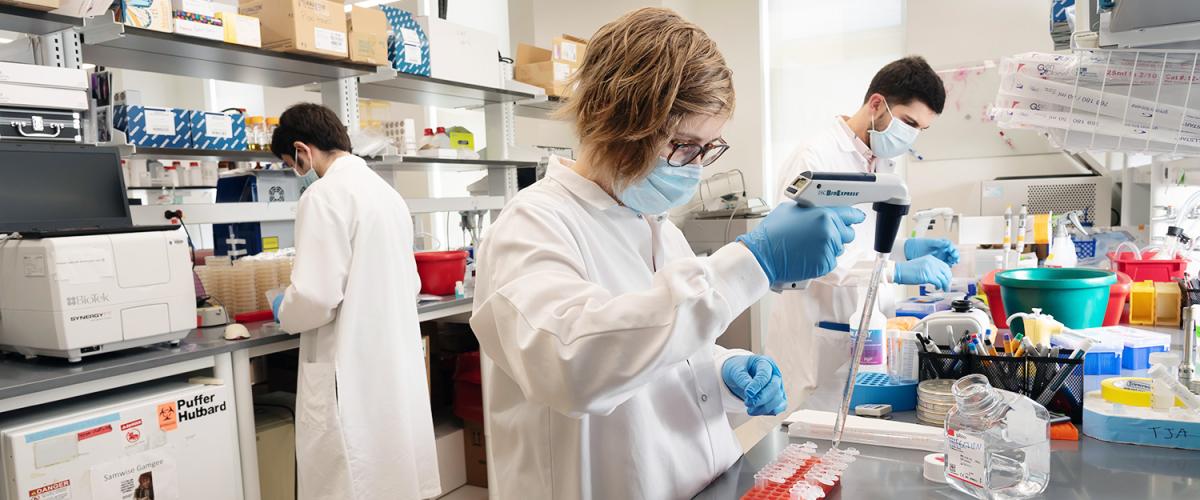 The Immunology Graduate Training Program is a stand-alone, department-based program offering a PhD degree in Immunology. Duke Integrative Immunobiology provides a physical home that facilitates interactions and builds cohesiveness among faculty, students, postdoctoral fellows, and staff. Students develop independent thinking and problem-solving skills through a combination of formal coursework and training in research methodologies. Alumni from our program have gone on to outstanding careers in academia, biotechnology, and other science-related fields.
---
Curriculum
Students receive training through formal coursework in immunology and elective courses in areas such as molecular biology, biochemistry, genetics, pharmacology, and cell biology. Students become acquainted with the research performed in our laboratories through a series of lab rotations during their first year of graduate school. In addition, students are exposed to a broad range of contemporary topics in immunological research through:
Weekly seminars delivered by national and international experts in immunology

Weekly trainee-focused "Work in Progress" seminars delivered by graduate students and postdoctoral fellows

Departmental journal clubs
Students are also encouraged to attend national/international conferences to present their findings and interact with leading scientists in the field. The program also provides students with teaching experience through participation in supervised teaching.
---
Research Opportunities
The Immunology Graduate Training Program provides students with an interactive and collaborative environment that spans basic and clinical sciences at Duke. Many faculty in the Immunology training program hold primary appointments in other departments, including Anesthesiology Medicine, Pediatrics, Surgery, Pathology, Neurosurgery, Ophthalmology, and Molecular Genetics and Microbiology. The faculty provides trainees with opportunities for study in a range of areas of contemporary immunological research
The major emphasis of a PhD in Immunology at Duke is on research. Each student selects a thesis mentor at the end of the first year and begins work on the thesis project in the second year. To qualify for the PhD program, students must pass a Qualifying Preliminary examination by the end of the second year. The average time to complete a PhD thesis in the Immunology Graduate Training Program is 5.6 years.
---
Student Outcomes
The Immunology Graduate Training Program matriculates on average 6 students per year. Among our 2014-2020 PhDs, 75% are currently involved in basic research (faculty, postdoctoral, private sector, academic, government), 11% are in advanced medical training, and 14% are in positions such as consulting, marketing, and science writing. Among our 2004-2013 PhDs, 33% currently hold faculty positions. 
 
Interested in joining our Graduate Program?