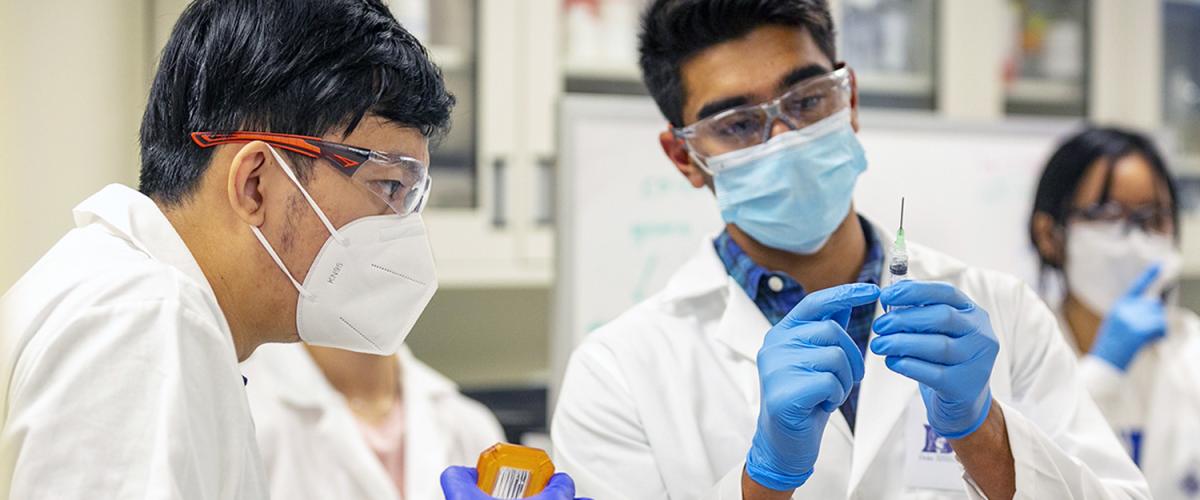 Training a Diverse Population of Scientists
The Immunology Graduate Training Program is committed to attract, recruit, and train a population of scientists that reflects the diversity of our society. We place a strong emphasis in recruiting trainees from backgrounds that have been traditionally underrepresented in the biomedical sciences.
We strongly encourage students interested in pursuing a career in Immunology who, by reason of their background, culture, socioeconomic status, race, ethnicity, work, and life experiences, contribute to a fuller representation of perspectives within the academic life of the Immunology program and University to apply to our program. The program and university are also committed to providing reasonable accommodations for qualified individuals with disabilities. Learn more about accommodations, accessibility and assistance at Duke University.
We partner with the Office of Biomedical Graduate Education (OBGE) and the IDEALS office for graduate student recruitment and to support students who enroll in our program. Please visit the EDI section of our website for a description of additional resources.
---
Fellowships to Promote Diversity
The Duke University Graduate School awards Dean's Graduate Fellowships to exceptionally talented students from underrepresented groups. The Fellowship provides a 12 month stipend, fees and tuition for the first two years of training, and a $5,500 stipend supplement for the third and fourth years of training. Candidates can be simultaneously nominated for and accept other university-wide fellowships.
The D. Bernard Amos Graduate Diversity Fellowship Award supports first year Immunology graduate students from underrepresented groups in immunity sciences. The award is a one-time $5,000 supplement to stipends provided during the first year of training. US citizens or Permanent Residents who belong to historically under-represented racial and ethnic groups (Black/African American, American Indian/Alaskan native, Hispanic/Latino, and Native Hawaiian/Pacific Islander) or who are first generation college students. Applicants selected for this award will be notified upon their admission to the PhD program. Recipients of Dean's Graduate Fellowships are not eligible for Amos Diversity Fellowship Awards.
---
Program Alumni
Dr. McMurry-Heath is WWW Vice President for Regulatory Affairs at Johnson and Johnson. Her previous position was Associate Director of Science, in the Center for Devices and Radiological Health at the FDA. She was formerly a Robert Wood Johnson Health and Society Scholar at the University of California at Berkeley and San Francisco. Her work has focused on the intersection of biomedical research funding policies and healthcare disparities and global health inequities. She formerly oversaw health and social policy issues for Senator Joseph Lieberman and was the senior health policy advisor for the Lieberman for President Campaign. In both contexts, she constructed policies to stimulate translational research in the public and private sectors and to promote health care quality.
Dr. McMurry-Heath completed a bioterrorism policy fellowship in the office of Senator Joseph Lieberman, funded by The Robert Wood Johnson Foundation and participated in a joint pediatric-medical genetics training program at Children's National Medical Center in Washington, D.C. and the National Human Genome Research Institute at the National Institutes of Health (NIH). She is a former recipient of an American Association for the Advancement of Science Policy fellowship during which she worked to improve diversity in graduate science education in the Office of the Director of the National Science Foundation. She received her M.D. and Ph.D. in molecular immunology from Duke University with a grant from the NIH Medical Scientist Training Program. Her basic science research focused on the role of the regulation of chromatin structure and gene recombination in immune system development. She received her undergraduate training in biochemistry at Harvard University.
"Duke is a wonderful place to learn how to put science in context. I have always been just as interested in the societal applications of science as the science itself. If you share the view that science has the power to change the world, then Duke is the perfect place to study. As I bred my transgenic mice and completed experiments in molecular immunology, I also took classes on the history of race, the cultural role of education, and health policy. And Duke is even more interdisciplinary than when I was there.
"I have had the privilege of visiting the Medical School's burgeoning site in Singapore and I was amazed at the opportunity it presents Duke students. This international project combined with the new Duke Global Health Institute and the University's ongoing leadership in health policy, environmental advocacy, and public health mean that Duke students today can both uncover scientific discoveries and discover how society can use them. And this combined approach has never been more important. Most policy makers are not comfortable with science. They need assistance from a new generation of scientists who can talk to them about the hard core science and why it is important. From global warming to health care spending to funding for science education, we need more policy-savvy scientists. And if you want to be one of them, Duke is the place for you."
Dr. Mitchell is Associate Professor of Neurosurgery, Neuroscience, Pathology, Immunology and Laboratory Medicine at the University of Florida and serves as the director of the UF Brain Tumor Immunotherapy as well as co-director of the Preston A. Wells Jr. Center for Brain Tumor Therapy at the University of Florida. Prior to this he was Assistant Professor of Neurosurgery at Duke University School of Medicine and Associate director of the Duke Brain Tumor Immunotherapy Program.
"I came to Duke to pursue a Ph.D. in Immunology because I was convinced after examining several MD/PhD programs throughout the country that Duke University had one of the best integrative medical research programs of any institution I reviewed. The science was obviously excellent, and the interaction between medical students and graduate students and the medical and basic sciences research programs seemed intertwined into one large medical center, which was of great appeal to me. The thing that really sealed my decision to attend Duke, however, was the students, particularly the minority graduate and medical students that I met during my visit to Duke's campus. The students here seemed genuinely happy, and although facing an arduous training program, actually were enjoying their learning experience. This observation solidified my decision to attend Duke, and fourteen years later, I am still convinced I made the best choice possible for my career training."
Dr. Davila is currently an Associate Professor of Oncologic Science at the University of South Florida and an Associate Member at Moffitt Cancer Center.
Dr. Nelson is currently an Associate Medical Scientific Manager at Allergan.
Dr. Sanchez is currently VP, R&D at Locus Biosciences, Inc.
"Selecting a school for graduate studies can be a daunting process. However, upon meeting the faculty and students in the Duke University Department of Immunology the right choice for me became clear. The faculty seemed to genuinely enjoy working with each other, and I was impressed with the research being conducted by the students. Ultimately I decided to enroll in the program in the fall of 2004, and genuinely believe I made the best choice for my future development.
"During my time at Duke, I learned a multitude of scientific techniques using cutting-edge technology and gained a vast knowledge of the immune system. However, the truly important knowledge gained was how to think like an independent scientist. Each year I became more and more autonomous with my research, gaining confidence in my ability to direct it. When I graduated in December 2010, I knew that I was an expert on my research topic. I attribute my development to faculty mentors and the interactions with my colleagues in the department. Everyone is truly there to help from lending reagents and supplies to discussing the latest journal articles.
"Upon graduation I pursued an alternative career path as a program manager at the Duke Human Vaccine Institute. Here, I manage a $56 million plus portfolio for a research laboratory with projects including government and private foundation contracts for research in HIV, Influenza and Chronic Fatigue Syndrome. In the role, I utilize the skills I learned in the department on a daily basis including the ability to manage multiple projects, communicate to both the scientific and non-scientific community and understand how best to execute a scientific project. One of the most rewarding aspects of this career path is the continued interaction with the colleagues I met while studying at the Duke Department of Immunology."
Dr. Snowden is currently a Medical Science Liaison at GlaxoSmithKline.
"My time at Duke as a student in the Immunology program was time well spent.  While my training specifically as an immunologist was tremendously helpful as I established my career, it was the ecumenical scientific principles that I learned while at Duke that have maintained me in my profession and contributed to my ability to adapt to any situation in which I find myself.  Those lessons included critical thinking, problem solving, time and project management, integrity and persistence.  Duke's Immunology department provides its trainees with a very real-world experience of how their post graduate experience will be: while highly collaborative, each laboratory within the department has its own focus, external collaborators, and rules and regulations.  This type of environment is the basic blueprint in both academia and industry, whereby your success is based off of your ability to function in both microcosms and the larger community setting.
The faculty in the Immunology department is made up of not only great academicians, but knowledgeable businessmen and businesswomen, a duality that is necessary to be successful in both academia and industry.  A great doctoral mentor is one who ensures that you receive the best scientific training possible and then prepares you to use this foundation to pursue whatever post-graduate goals that you may have. That is what my PI provided for me and I am forever grateful for the lessons learned while a student in the Immunology department."
Dr. Reynolds is currently the Global Marketing Support Manager at bioMérieux.
"My time in the Duke Immunology program prepared me well for my current position in healthcare consulting. Not only did I become a subject matter expert, but I received training in widely useful skills, such as problem solving, written and oral communication, and the ability to work in teams. Some of the most valuable experience I gained while at Duke involved putting together and delivering presentations: Works In Progress, journal club, lab meetings, committee meetings, conferences, and so on. I had the added benefit that my advisor held me to the highest standards, especially when I wrote about or presented my work. Getting critiqued often on a weekly basis was not always fun, but was certainly beneficial; those little improvements build up over time to really change the way you present yourself and your work. I learned that being smart and doing excellent work isn't usually enough to guarantee success, you have to be able to communicate and work with people. Duke Immunology not only trains you to be a first-rate scientist, it also equips you with a well-rounded skill set that will take you far in any career."
Dr. Saintedym Wills is currently a Postdoctoral Associate at the HIV Cure Center at the University of North Carolina at Chapel Hill in collaboration with GlaxoSmithKline.

While Dr. Wills' present research focuses on identifying an HIV cure, her graduate research centered on the immune response to HIV infection and preventive vaccination. She was awarded the NIH Predoctoral Ruth Kirschstein National Research Service Award while at Duke. Dr. Wills shares her thoughts below.
"I truly enjoyed my time as a graduate student in the Department of Immunology and the Duke Human Vaccine Institute. With the training I received, I felt equipped to think critically about scientific problems across the biomedical sciences. My training at Duke prepared me for my postdoctoral training as an independent thinker who collaborates with others in my department. At Duke, I was in a competitive yet very supportive environment that fostered personal and professional development; and the program ensured that I was fully immersed in the scientific work— allowing meaningful exploration of talents and niches. I am grateful to my PI and mentor in graduate school (Dr. Georgia Tamaras) who was supportive of me and my career and believed in my intellectual capabilities. 
Joining the Immunology department and choosing the right mentor will help get any new and emerging scientist on the right track for a career in the biomedical sciences. Just be sure to keep your goals in mind, and take advantage of the plethora of opportunities and resources at Duke (including the Office of Biomedical Graduate Education and BioCoRE), while trying to hone your own academic and career interests."