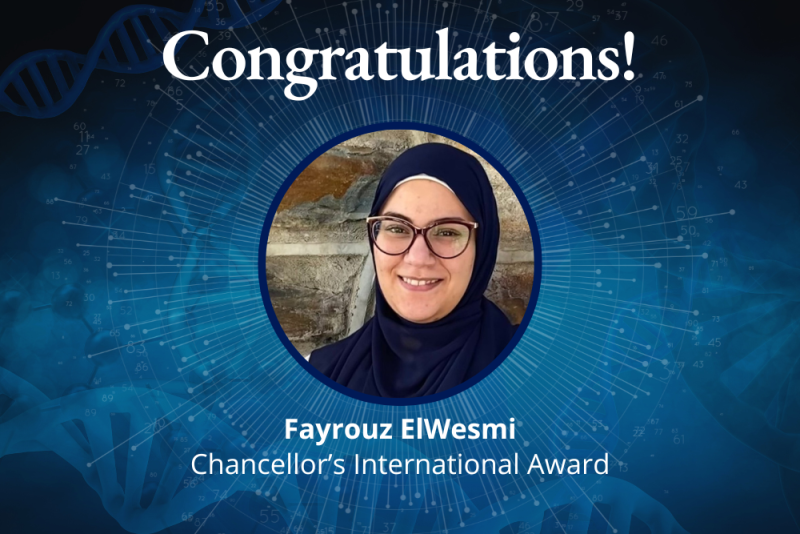 The Office of Biomedical Graduate Education recently announced the nine recipients of the 2023 Chancellor's International Awards, which provide financial support and professional development to promising international students.  
These talented researchers, who are entering their second year of PhD studies and collaborating with faculty at the Duke University School of Medicine, represent the future of biomedical research and discovery. 
Fayrouz ElWesmi of Saskia Hemmer's Lab was one of the nine students to receive the prestigious award.
Fayrouz received her B.SC. in biomedical sciences majoring in Cell and Molecular Biology from Zewail City University in Egypt where she is originally from. As an undergraduate, she used Saccharomyces cerevisiae to study the ribonucleotide excision repair pathway. Specifically, testing whether PCNA polyubiquitination via Rad5 protein enhances the recruitment of Ribonuclease H2 (RNase H2) to replication foci.
In 2022 Fayrouz joined the Department of Cell and Molecular Biology Program and has been a member of the Hemmers Lab since the summer of 2023. As a member of the lab, she utilizes novel transgenic mouse model to study the role of the interleukin 1 Receptor (IL-1R) family, specifically IL-18R and IL-33R in sensing and regulating neuroinflammation in mouse models of Multiple sclerosis. In Farouz's free time, she enjoys watching sunsets, camping, reading in the field of psychology, and cooking.